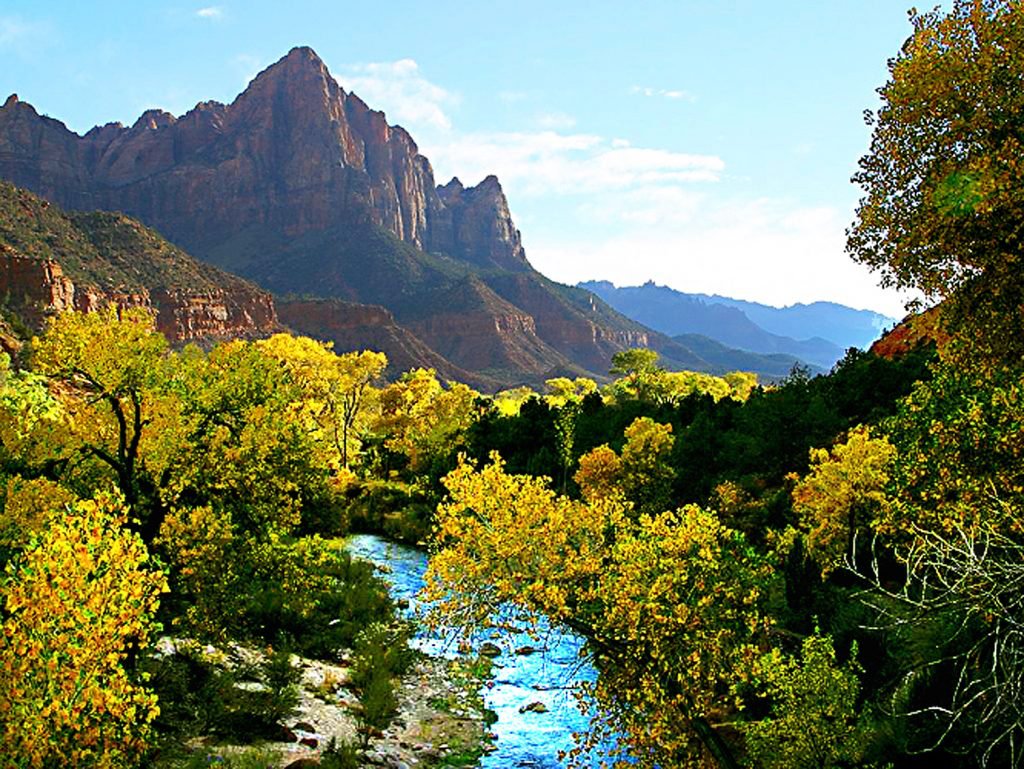 Zion National Park Tour From Las Vegas
Zion National Park Tour From Las Vegas

Info
Zion National Park, located 163 miles from Las Vegas is located near Springdale, Utah. The park is fairly large and covers 229 square miles (590 km2). Zion rests at the junction of the Colorado Plateau, Great Basin, and Mojave Desert regions. And the park's unique geographic location and variety of inhabitants has allowed for unexpected flora and fauna diversity. The main attraction to the park is Zion Canyon. Zion Canyon is 15 miles (24 km) long and up to half a mile (800 m) deep. Eons of wind and rain have cut through the sandstone by the North Fork of the Virgin River.
The most likely animals to see during the day include mule deer, rock squirrels, pinyon jays.As well as whiptail and collared lizards.  Desert cottontails, jackrabbits, and Merriam's kangaroo rats come out for moonlit adventures. The meta-predators thriving in Zion's majesty are cougars, coyotes, gray foxes, and ring-tail cats. The park lists in residency 289 species of birds, 79 mammal, 28 reptile, 7 fish, and 6 amphibian species.  Golden eagles, red-tailed hawks, peregrine falcons, and white-throated swifts are often observed in the park. To assist with Zion's indigenous wildlife integrity, California condors and bighorn sheep were reintroduced in the 1990s. Nineteen species of bat also reside in Zion Park's more remote caves and crevasses.
Memorable geographical features of the park include the Virgin River Narrows, Emerald Pools, Hidden Canyon, Angels Landing, The Great White Throne, Checkerboard Mesa, The Three Patriarchs, and Kolob Arch. Each feature has its own way of leaving visitors in awe. The topography of the Zion and Kolob canyon areas include nine geologic formations. Together they represent 150 million years of mostly Mesozoic-aged sedimentation. This entire wonderment was truly formed by the hands of God.
Tour Times and Points of Interest
Operates: Tuesdays & Thursdays or any day with a combined group of 6 or more, call for any day availability.

Departure: Approximately 7:00 am

Return time:  Approximately 6:30pm

Free pick up at Hotel

Zion and all its wonderful viewpoints

Checkerboard Mesa

Virgin River

Zion Canyon Scenic Drive

Mountain Tunnel
Travel and Amenities
$256 per person

Includes: Lunch + unlimited bottled water and snacks

Gratuity Not included.
What to wear
Hiking or athletic walking shoes

Temperatures are cooler from October – February so long pants and a warm jacket are appropriate

March – September temperatures are warm where shorts, hat and light shirt are comfortable.
Vehicle Used
7-passenger Luxury 4×4 SUV's

12-passenger VIP mini-coaches

14-passenger VIP touring class mini-coaches