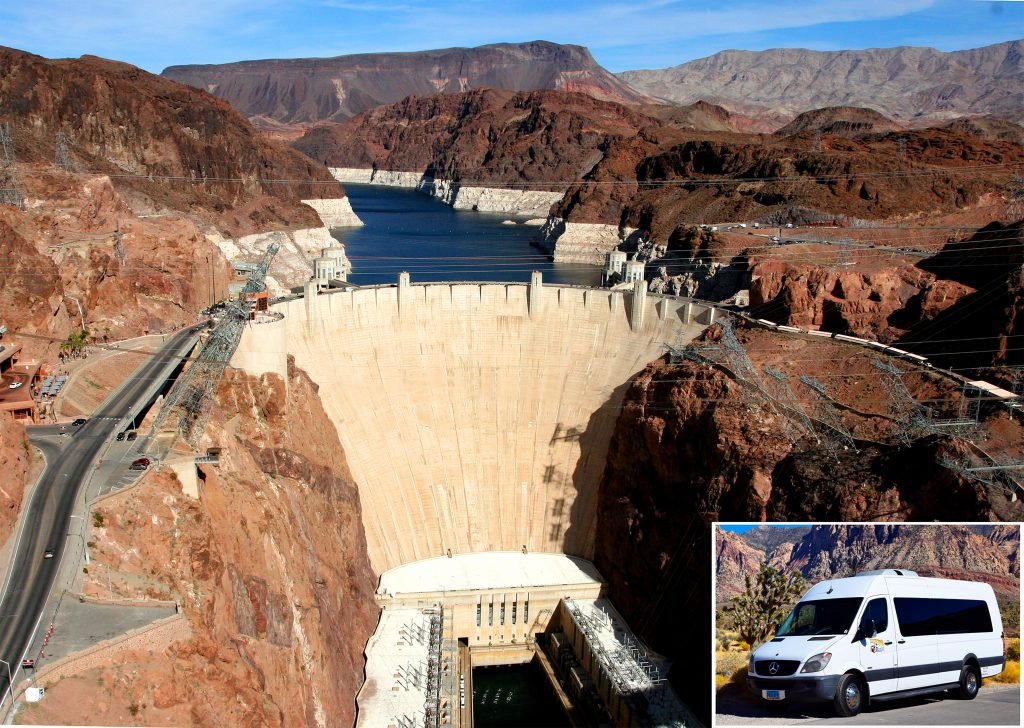 Hoover Dam Extended VIP Tour from Las Vegas
Hoover Dam VIP Tour Info
This wonderful Hoover Dam Tour will show you an incredible structure almost 100 years old and twice as tall as any man made construction of its day. But that's just the tip of the iceberg. The Hoover Dam Extended VIP Tour takes you through a maze of history, engineering, and delivers the best informative tour and the best photo ops possible.
Starting out this tour takes you through the outskirts of Las Vegas to the beautiful High Desert and  Mountain Ranges that surround this Desert Paradise.
From the top of the Hoover Dam, the views are truly breathtaking. And our tour gives you plenty of time to get some great photos of Lake Mead, the world's largest manmade lake. From the south side of the gorge in Arizona, the colors shinning off the sheer canyon walls are astounding.
The view from the new Hoover Dam Bridge an amazing photo op from 900 feet above the Colorado River. And on our return trip, we have a fun stop at local park which is very popular with our native Big Horn Sheep, who often are present grazing on the sweet grass as well as tour the pretty and quaint old main street of Boulder City.
Tour Times and Points of Interest
Operates Daily

Departure: Approximately 7:00 am

Return time:  Approximately 1:00 pm

Pick up at Hotel

Hoover Dam

Views at Top of Hoover Dam, Lake Mead

Hoover Dam Bridge (photo ops)

Tour the old main street of Boulder City

A fun stop at a local park to see Wild Big Horn Sheep
Travel and Amenities
$101 per person

Includes  unlimited bottled water and snacks

Gratuity Not included.
Vehicle Used
7-passenger Luxury 4×4 SUV's

12-passenger VIP mini-coaches

14-passenger VIP touring class mini-coaches
What to wear
Hiking or athletic walking shoes

Temperatures are cooler from October – February so long pants and a light jacket are appropriate.

March – September temperatures are warm where shorts, hat and light shirt are comfortable