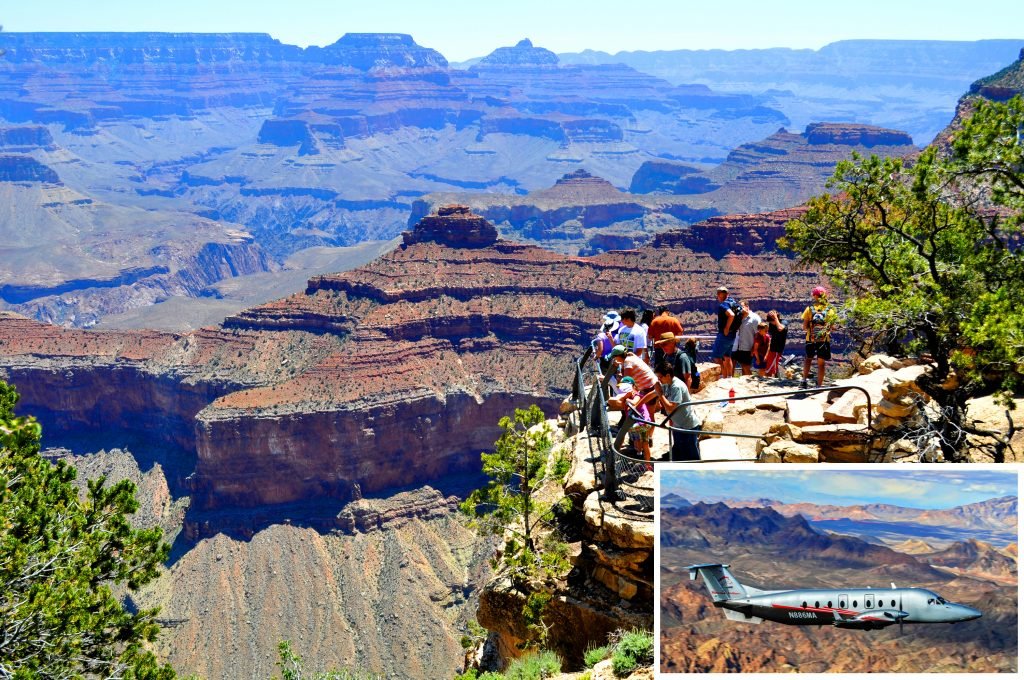 Grand Canyon National Park South Rim Airplane Tour
Fees Reduced:

Was

 $399
NOW $339
Grand Canyon National Park South Rim Airplane Tour Info
Fly in comfort and style to the Grand Canyon's South Rim for a day of scouting scenic overlooks, architecture frozen in time and visually stunning hiking trails.
Begin with a delightful flight leaving from Maverick's Henderson Executive Airport terminal. We'll take you on a short hop to the Grand Canyon's South Rim aboard an executive-style airplane.
We'll continue with a short ride thru the Grand Canyon National Park and bring you to the picturesque Grand Canyon Village. The ground portion of this amazing tour will include awe-inspiring vistas, panoramic overlooks, and trails only accessable from inside this beautiful park. You'll have plenty time to visit unforgettable sites such as El Tovar, constructed in 1903, and Mather Point, which offers some of the most romanticized views of the Grand Canyon. From these vistas, you will experience climactic panoramas. Such as the Tower of Ra, Phantom Ranch, Summer Point, Dragon Head, and the Battleship.
A great box lunch will be served at Bright Angel Lodge right at the overlook of the South Rim. Steep in the majesty of the Grand Canyon and be sure to take plenty of photos. Memories made during the Grand Canyon National Park Airplane & Helicopter Tour are sure to last a lifetime. Our tour concludes by whisking you back to Las Vegas with a return flight and complimentary ride back to your hotel.
Tour Times and Points of Interest
Operates: Daily

Departure Time:  10:00 am

Duration Approx. 7.5 hours (hotel to hotel)

Departure Point: Henderson Executive Airport (includes complimentary transportation to and from hotels within 5 miles of the Strip)
Travel and Amenities
$339.00 inclusive per person
($299.00 + $25.00 fees + $15.00 fuel surcharge)
What to Bring
Valid photo ID for all passengers 18 and older

Hiking or athletic walking shoes

Temperatures are cooler from October – February so long pants and a warm jacket are appropriate

March – September temperatures are warm where shorts, hat and light shirt are comfortable.