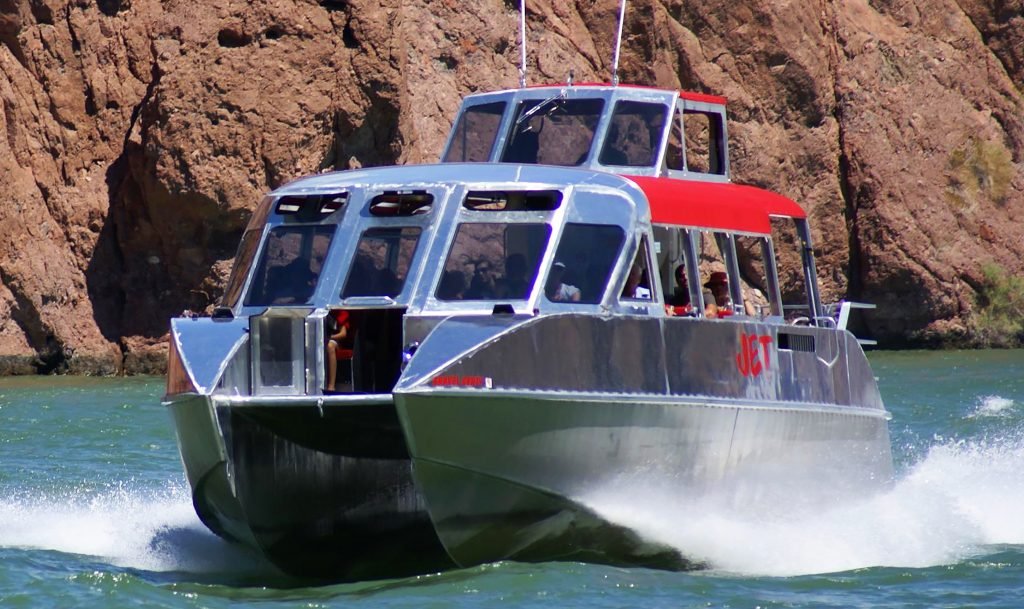 Colorado River Jet Boat Tours
Colorado River Jet Boat Tours

Info
This powerfully Exciting & Scenic Tour starts with a beautiful drive.We'll tour you through the high desert and Joshua Tree Forest to the Colorado River. There you will board a sleek and powerful Jet Boat for an exhilarating 58 mile cruise on the Colorado River (no whitewater rapids on this tour).
Take in a romantic picnic lunch on the gorgeous shores of Lake Havasu Beach, the Ft. Lauderdale of the South Western desert! Be sure to bring your swim gear and a towel. You won't want to miss taking a refreshing dip in the blue waters of this beautiful fresh water lake. This tour is a blast!
Everybody loves the Wild Burros seen on old main street. And it's just the kind of place you'd expect to see them! This is a great western conclusion to a wonderful, exciting and unforgettable day on the Colorado River.
The famous "original London Bridge" WAS falling down. So this amazing structure was dismantled and brought to America and reconstructed at Lake Havasu. You'll definitely feel regal walking the bridge that has been graced by "Kings and Queens."
On your return to Las Vegas you'll enjoy a breathtaking 25 mile desert ride on the famous old Route 66. We'll have a refreshment stop at "Oatman Ghost Town". This is the iconic Old West gold mining town from the 1800's that wouldn't die.
Tour Times and Points of Interest
Operates: Mon, Wed & Friday, March 1 thru November 30.
Pick up: 6:30 AM
Return approx. 6:30 PM
Travel and Amenities
$249 per person

Includes  Lunch, unlimited bottled water and snacks
Vehicle Used
Luxury 4×4's
4 passenger VIP Mini Coaches